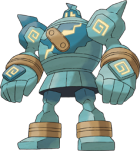 Pokemon of the week #8 is Golurk
Overview
(From Smogon):
In a tier where Ghost-types haunt almost every team, Golurk struggles to make its presence felt. It has neither the sheer bulk of Cofagrigus and Dusknoir, nor the Speed of Rotom. What Golurk does have, however, is a unique typing and one of the best Attack stats in the tier. Not only can Golurk spinblock, but it can also single-handedly defeat most of the tier's common Rapid Spin users with its excellent coverage and powerful moves. Sadly, Golurk's secondary typing curses it with weaknesses to common Grass- and Water-type attacks. Fortunately, it also gives Golurk an immunity to Electric-type attacks, meaning the ghostly automaton can set up on common Choice Scarf users such as Galvantula and break through VoltTurn cores. Choosing to use Golurk over the many other Ghost-types is often a hard decision to make; however, if you want a spinblocker that can also double as an excellent offensive Pokemon or even a sweeper, then Golurk should be the perfect fit for your team.
Rules:
You can post as many movesets as you want. Just try to fit them into one post.
All movesets must be original. Meaning they must not be sets that are taken off a website.
Constructive Criticism is good, just no flaming or trolling.
Please try to be serious about the set and provide as much information as possible on how it works.
Base Stats:
HP: 89
Attack: 124
Defense: 80
Special Attack: 55
Special Defense: 80
Speed: 55
Name of Pokemon @ Item

 Nature

 Ability

 EVs

 -

 -

 -

 -

 DESCRIPTION